Get Your Security Guard Licence Now!
Online Security Guard Training Courses
Security Guard License Training
24/7 Access to Online Course
Free Mock Test
You are required to submit a valid Emergency First Aid CPR,
level C certificate, approved by WSIB
Security Guard + First Aid/CPR Training
24/7 Access to Online Course
Free Mock Test
Emergency First Aid CPR/AED Level C
6.5 Hours Full in-class First Aid CPR/AED training
Be 18 years of age or older. 
Have a clean criminal record. 
Can legally work in Canada
Purchase the course directly from our website. Login with credentials sent to you in email. Course starting from $89.99 only.
GET YOUR FIRST AID/CPR CERTIFICATE
After completion of the course, you are required to submit a copy of your Emergency First Aid Certificate. (make sure it's WSIB approved)
OR
Book an appointment with us for training
RECEIVE TRAINING COMPLETION NUMBER (TCN)
You will get TCN via email within 3-4 business days upon completion of your course and submission of your first-aid CPR certificate.
The ministry exam is done by Serco Canada(Drive Test Centers). Can also be completed online.
(1) 60 MCQ questions
(2) Score 62% to pass the exam
(3) 75 minutes to complete the test
Congratulation! This is the final step to become a licensed security guard in Ontario.
Want To Become A Licenced Security Guard?
We Got You Covered?
AMAZE security guard training provide quality training courses for security guard and emergency first aid CPR.
The security guard journey begins with 40-hours security training and emergency first-aid CPR training.

Once you finish the training and have the training completion number, you are ready to give the security guard test!
Apply for your security training license online and begin your career as a security guard!
How To Apply For Security Guard License Online?
Step 1 - Go To Service Ontario Website
Go To This Website ⬇
Step 2 - Access Service Ontario Account
Under Popular Links, Click '
Access Your ServiceOntarion account (formally ONe-Source for Business)'
Step 3 - Sign Up
Click on '
Sign up now
'
Step 4 - Add a Service
Click on '
Add a service
'
Step 5 - Add Private Security & Investigative Service
Find 'Private security and investigation services' under 'Add a service' option.
Click on 'Start now'
Step 6 - An Individual
Click on '
an individual
'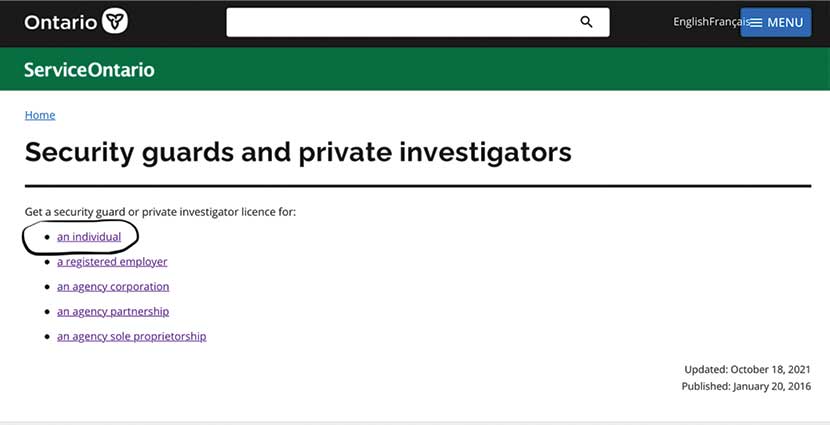 Step 7 - Get Security License
Scroll down to 'Get a security guard license' section
Click 'apply for a new security guard licence'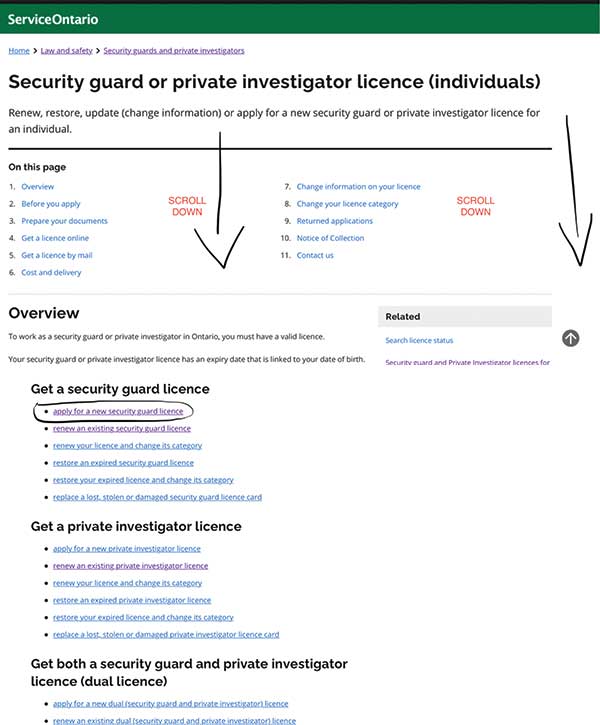 Step 8 - Provide Required Information
At this step, you will be asked to enter your PERSONAL INFORMATION. Fill in all the information as per the requirements.
Once done, you will be asked to submit documents. Following is the list of those documents:
• Passport Size Photograph
• Study permit or Work permit or PR Card
• Passport
• Guarantor Form – (Download Guarantor form)
Enroll Today For Best Security Guard Training
AMAZE security training programs are structured to meet and exceed all the requirements of Ontario Security Training. We will provide you will all the required materials. We are here to help you every step of the way.
AMAZE Security Training is an acclaimed institute of professional trainers in Mississauga. We are well-known for delivering effective and engaging content for security training licenses. Our training entails BASIC SECURITY GUARD, EMERGENCY FIRST AID & CPR, and STANDARD FIRST AID. For more information give us a call at 647-380-2222
Launch Your Security Guard Career With AMAZE
AMAZE security training believes in providing quality training. Our course content is built to deliver ministry-guided security at the highest standard. We meet and exceed all the mandatory requirements in place by the PSISA. We provide you with all kinds of quality material such as presentations, reviews, quizzes to prepare for the exam.
We appreciate your career choice as a security guard. Our online courses are available 24/7. It allows you to finish course material anywhere you want, whenever your want, at your pace.
Affordable, High-quality & Professional Training Programs!